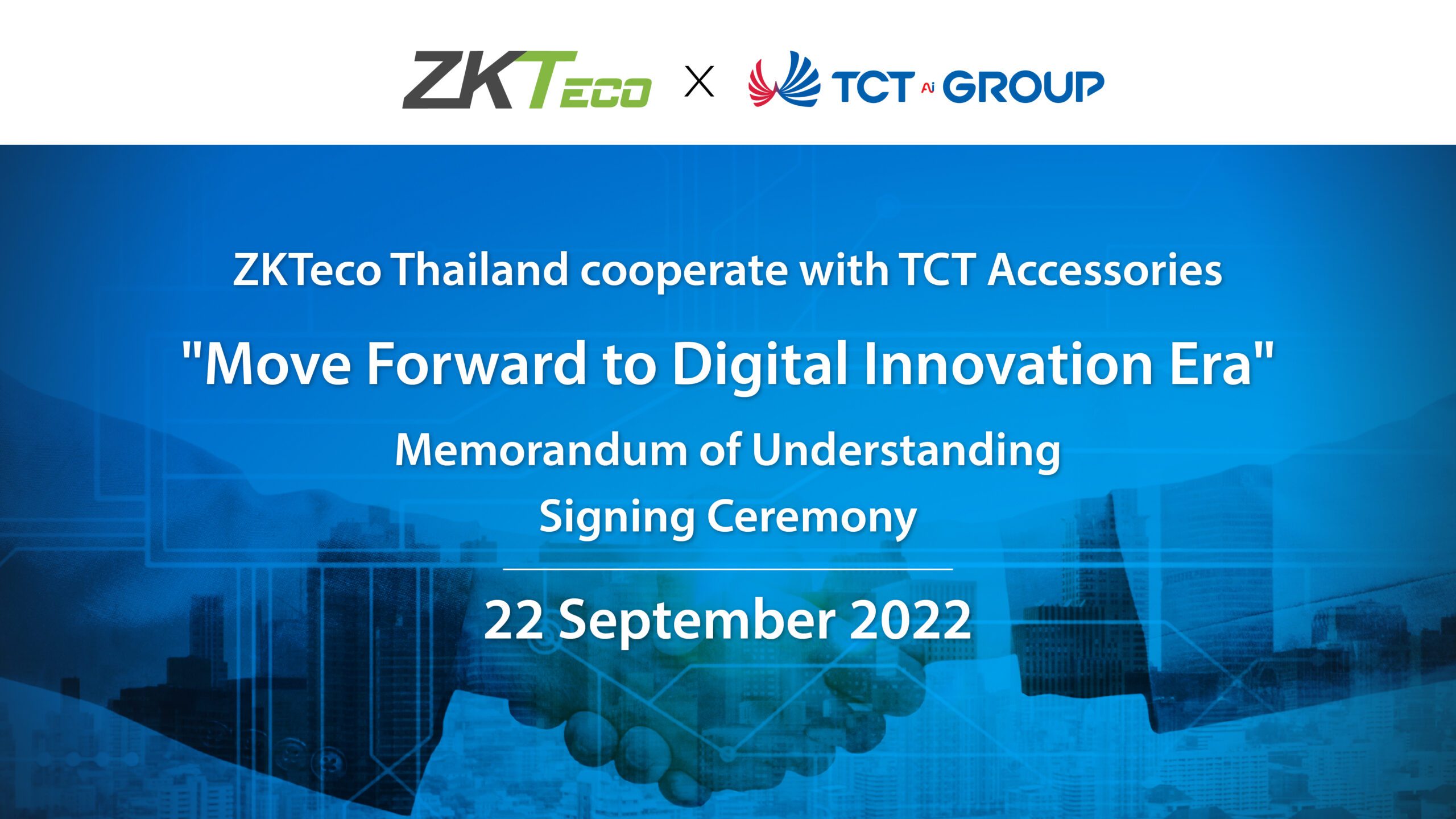 ZKTeco Minerva IoT and Digitalized Business Global Launch was initiated in Thailand
On 22nd September 2022, ZKTeco Minerva IoT and Digitalized Business Global Launch was initiated in Thailand. ZKTeco Thailand signed and TCT Accessories signed a Memorandum of Understanding for the "Strategy of Transformation of Minerva IoT Digitalization".
In the event, ZKTeco Thailand introduced the contents of the "Minerva IoT and Digitalized Service Transformation", and has signed a cooperation agreement of the "Super Apps" digital innovations. It is believed that, with the support and empowerment of Minerva IoT platform, the cooperation of the two industry-leading corporates shall build a solid foundation of creating Super Apps as the ideal digital tool for users in Thailand market and ZKTeco's global transformation of technological digitalization.
Minerva IoT is the new-generation IoT platform independently developed by ZKTeco. With this platform users may quickly, conveniently and remotely connect their front-end smart devices and apps., as the platform is compatible with a wide variety of smart devices, supports edge-end AI computing, and offers platform-based SaaS cloud services including visitor application and entrance & exit management application. It also provides highly efficient service and operation systems for users' convenience. The platform is open to API market for the convenience of third-party partners' integration and connection. The platform bridges up the entire chain of devices, applications, services, developers and service provides, and inserts magnificent DNA into ZKTeco's conventional business which has effective enhancement of productivity, user experience and active response to the users' requirement of "one app. for multiple needs".
Super Apps is developed based on the Minerva IoT cloud platform, which emphasizes the concept of mobility. It converts traditional computer software to various mobile apps. that can be used everywhere, and transforms the conventional sales channel of "hardware as solution" to the whole new mode of "service & operation".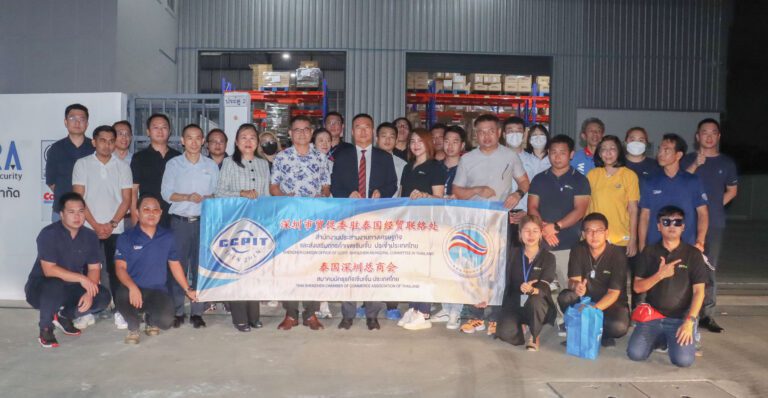 John Che, President of ZKTeco, firstly introduced ZKTeco's newest digital innovative product – BioCV edge-computing server. With the new-generation multi-modal biometrics recognition techniques and analytical techniques based on computer vision independently developed by ZKTeco with intellectual property rights, it offers a wider variety of application scenarios and smart solutions. With BioCV as the technical inner core of the platform, and Minerva Iot as the data innovation platform, the double-wheel driving force with hardcore technologies and data innovations shall bring enormous business opportunities of the services and ecosystem of "pan-entrance & exit scenes".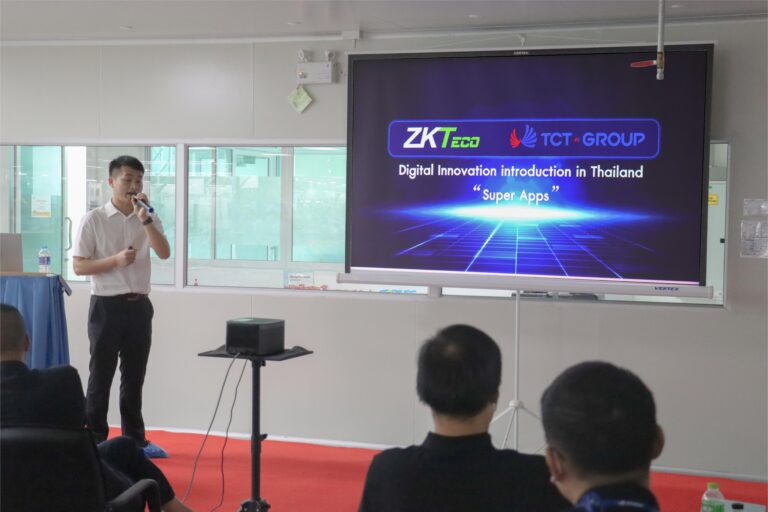 Mr. We Jing Liu, General Manager of ZKTeco Thailand, followed to show the "Super Apps" co-built by ZKTeco Thailand and TCT Group in the event. It is equipped with Minerva IoT platform robot learning techniques, multi-sensor technique, and biometrics recognition techniques, and is enabled to perform multi-dimensional management of people, vehicles and objects. It applications include smart payment, smart parking lot sharing, payroll calculation, advertisement management, software service & subscription, and data operation & maintenance etc. It also offers commercial applications including entrance & exit control, visitor management, IoT device control, and carpark system etc. The App. also supports open API which enables integration with third-party software and other functions for connection and adaptation.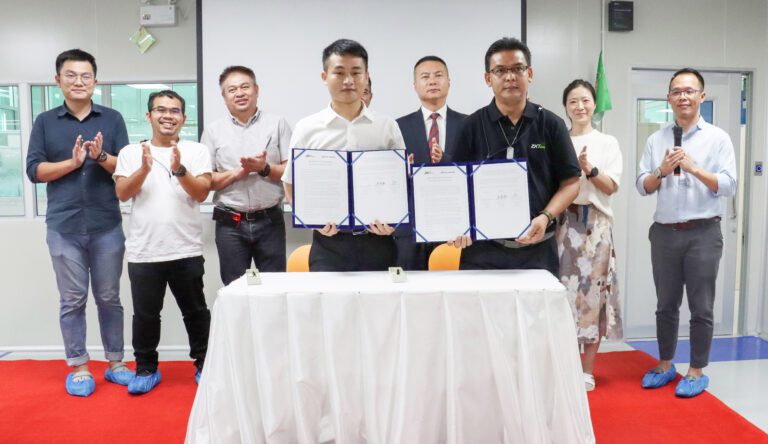 TCT representative Mr. Silar Sanyakorn signed with ZKTeco Thailand
After 3 hours of thorough communication and exchange, Mr. Xie Chongtong, President of TCT Group has expressed his thoughts and his consensus with ZKTeco in terms of the newly developed concepts including digital transformation, the emphasis of mobility, and new digitalized service modes. ZKTeco expects to coordinate with more partners to make horizontal application of "Super Apps" in the market of Thailand and the actual application scenes which is most concerned by the users, and promote the establishment of the marketing points and sales points of "ZKTeco Flagship Store", and penetrate o sales channels to the lower levels in provinces and cities to achieve "smart pan-entrance & exit enabling harmonious people and smart society".
ZKTeco shall continue the initiation of the 6-month Minerva IoT and Digitalized Business Global Launch in 30 countries and regions, and shall, with our strong support of backend and global development strength, empower the product sales of the front-end subsidiary teams, operational innovations and service innovations, and utilizes the digitalized abilities of the Minerva IoT platform to coordinate with our partners for the successful transformation of ZKTeco's technological digitalization.
About TCT Group
TCT Group is a core cooperation partner of ZKTeco, and is an industry-leading device importer and distributor in Thailand. Its business covers IT devices, security products, and the service enterprise-level digitalization etc. Its service organizations is widely distributed in all regions of Thailand.
After the event, TCT Group will promote the full upgrades of the existing products and services, and offer their clients sustainable services, and open up the new digital service market in the conventional market with ZKTeco Thailand. They will maximize the incrementality of channels, and, with product innovations, data innovations, work with ZKTeco to promote the landing of smart hardware and SaaS software in the commercial field of Thailand, and practise the strategy of the digitalized service & operation development.